by Burak Bekdil
Gatestone Institute

Locals are angry. So are the migrants. Tens of thousands of migrants have illegally landed here, on the islands of Greece, since 2015. Some leave, some stay, but most wait to be "processed" in the hope of finding their ways into Europe's richer countries, such as Germany.
"Theloume piso ta nisia mas…, Theloume piso ti zoi mas!!!" echo poster slogans across Greece's northeast Aegean islands, inviting locals to debate the poisoning refugee catastrophe: "We want our islands back… We want our lives back!!!" Lesbos, an island situated on the easternmost corner of Europe and neighboring Turkey, is one of the victims that once was a paradise.
There is always the lighter side of things. A tavern owner recalls a 2015 dialogue with a Syrian migrant who had just disembarked from the rubber boat that carried him to a faraway corner of Lesbos after a perilous journey. The refugee arrives at the tavern and, in broken English, asks: "Tell me, quick, where does the train leave for Germany?"
Vangelis Stelianou, the owner of the beautiful tavern "H Mouria tou Myrivili" in Skala Sykamineas at the northern tip of Lesbos, recollects how the "refugee business" works, based on his conversations with hundreds of migrants who usually arrive at the doorstep of his eatery because the distance between the Turkish mainland and Lesbos is shortest here (just five miles): "It's 1,500 euros per person and one boat takes up to 60 persons. One boat's turnover is thus 90,000 euros if it travels once a day."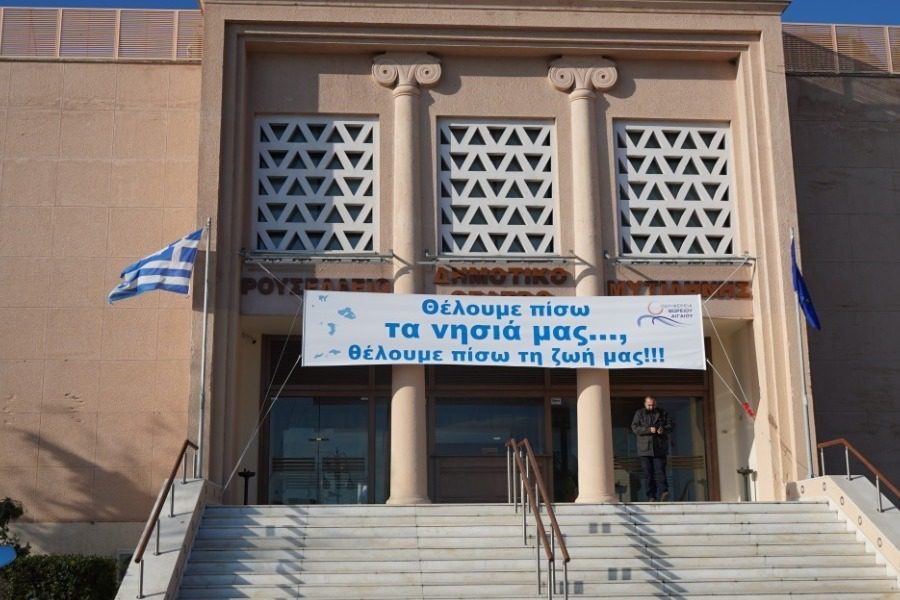 "Usually the Turkish coast guard boats accompany illegal boats to the shores of Lesbos and leave," Syelianou says, pointing to an August 29, 2019 photo he took, showing half a dozen or so illegal boats just off Skala Sykaminea and a Turkish coast guard boat just behind them.
At Moria, the largest camp on the island of Lesbos, 19,000 migrants are presently seeking shelter at a facility with a capacity for 2,840 people. The total population of Mytilini, the capital of Lesbos, is about 29,000. The result is frustration.
On February 4, Lesbos residents barged into the government office that regulates Aegean and island policy to demand a response from Athens to overcrowding at the Moria camp. "I'll admit that I am not optimistic," Northern Aegean Regional Governor Kostas Moutzouris told reporters after a meeting with residents. The previous day, Greek police in Mytilini had clashed with protesters as they sought to prevent a march of some 2,000 migrants from the camp in Moria from reaching the capital Mytilini.
"It's up to the Turkish government," said one local. "They are deliberately using the migrant card as a bargaining chip with the European Union." In 2016, Ankara and Brussels reached a deal in which the EU committed six billion euros ($6.6 billion) in migrant assistance and a more liberal visa regime for Turkish nationals in return for Turkey stopping migrants from crossing. The deal has not stopped the refugee flow from the Turkish coast. Turkey claims that so far, only about $2 billion has been paid.
In October, Turkey's Islamist president, Recep Tayyip Erdoğan, vowed to send millions of (more) refugees to Europe if EU countries did not back his proposal to settle them in a Syrian "safe zone." Shortly before that, Erdoğan had threatened the EU with sending "3.6 million refugees [which Turkey hosts] your way." With that threat, Erdoğan is not only imposing Turkey's "nuisance value" on the EU but is also addressing an increasingly angry Turkish population over Syrian migrants. A 2017 survey by Istanbul's Bilgi University revealed that more than 85% of Turks favored the repatriation of migrants residing in Turkey.
What to do? Apparently, there is little to be optimistic about. In an interview with the author, former Greek ambassador to Turkey Ioannis Corantis said:
"It is safe to assume that the flow of refugees — be they political or simply economic migrants — will continue unabated, as long as Turkey uses them as a means of pressure on Greece and the EU, in order to promote its own agenda, taking into account the obvious difficulties the Greek authorities have in countering the inflow of migrants through the sea border between the Greek islands in the Aegean and the Turkish mainland."
Corantis also said he thinks that a realistic solution to the problem should consist of two pillars. The first would consist of a set of legislative and executive measures in Greece — some of which are being already implemented — in order to improve border controls at sea, speed up procedures for the examination of asylum requests and thus the expulsion or repatriation of all those who see their application denied, heavy penalties for people-smugglers, and a well-organized public information campaign in the countries of origin about the fate of their nationals would be refugees.
The second pillar would consist of an overall settlement agreement between the EU and Turkey — leaving aside the now infamous and totally ineffective EU-Turkey declaration of March 16, 2016 — by which EU member states would commit themselves to receive directly, and not through Greece, specific numbers of refugees according to previously agreed criteria. "In exchange," Corantis concluded, "literally, Turkey should receive a financial compensation, as she has already."
Greek islanders want their islands — and lives — back. Sadly, they will not have them back any time soon.
* Burak Bekdil is an Ankara-based political analyst and a fellow at the Middle East Forum.
Published at https://www.meforum.org/60461/greek-islanders-want-their-life-back