Another fake news story has been spread by mainstream media outlets, according to which China is ready to "bomb North Korea."
A number of media outlets, including the Express newspaper, the Daily Caller news website and the Daily Star newspaper, have spread the report. For this once, they told us about alleged China's threats to bomb North Korea.
According to the media, the Chinese Global Times newspaper reported that Beijing is concerned about the nuclear activities of North Korea that can jeopardize the northeastern part of China. Allegedly, the newspaper claimed that China is ready to respond with force if North Korea negatively impacts the country with its illicit nuclear activities.
All the media quoted the same words, which according to them, were published by the Global Times:"China has a bottom line that it will protect at all costs, that is, the security and stability of northeast China… If the bottom line is touched, China will employ all means available including the military means to strike back… By that time, it is not an issue of discussion whether China acquiesces in the US' blows, but the Chinese People's Liberation Army (PLA) will launch attacks [on] DPRK nuclear facilities on its own. A strike to nuclear facilities of the DPRK is the best military means in the opinion of the outside world."
But there is one little problem – Global Times has never published something like this. On April 7, an article with such statements was published on the official website of the Chinese People's Liberation Army (PLA), the China Military. According to the website's information, the article's author is Jin Hao from the Global Time. However, we could not find any information about a person with this name, working for the newspaper. Later, the article was deleted from the China Military without any explanations by its editors. Now, the article can be found in the Google Global Cache (GGC) service as a snapshot of the page, dated by April 11.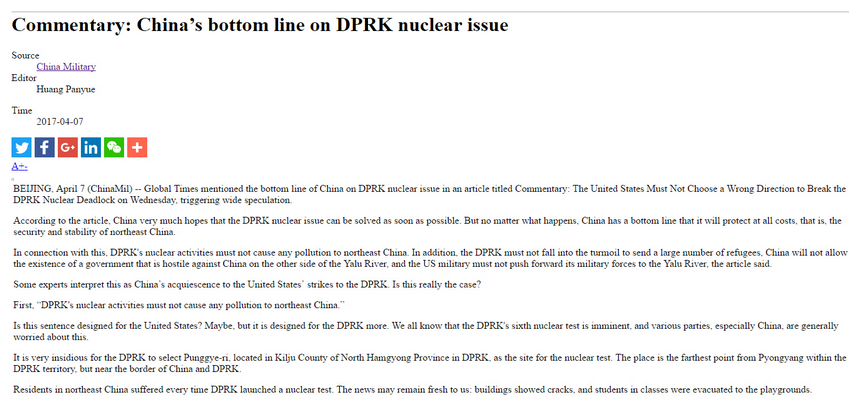 However, the fact that the article was deleted and has never been published by the Global Times newspaper did not prevent mainstream media from using excerpts from the piece, claiming that China is ready to "bomb North Korea if it crosses Beijing's 'bottom line'."