Dec 26, 2021
Turkey has converted another Hagia Sophia church into a mosque. To stress yet another provocation towards the former Greek Orthodox community and Greece , Ankara held the opening ceremony on the Christmas Eve, on December 24.
The 12th century church is located in the northwest province of Edirne on the border with Greece.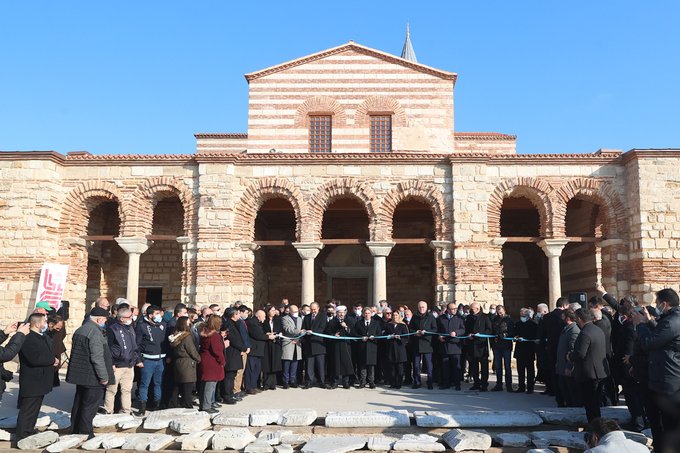 The church was converted to a mosque after the Ottomans conquered Istanbul in 1453. It was greatly damaged by an earthquake in 1965 and remained in ruins since

The mosque was damaged greatly in an earthquake in 1965 and was shut down as a result. It's been like that for over 5 decades.
Unlike the other Hagia Sophia churches in Istanbul, Trabzon and Iznik, this Byzantine church in Enez was never used as a museum.There is one major difference in this conversion; this church never served as a museum unlike the other three Hagia Sophias. Converted into a mosque and than left abandoned for decades. Of course this history does not legitimize this initiative.
source: Ayla Jean Yackley & others
PS at this pace, Turkey will soon wipe out all God's Wisdom (Hagia Sophia) from the country.
Published at www.keeptalkinggreece.com
We remind our readers that publication of articles on our site does not mean that we agree with what is written. Our policy is to publish anything which we consider of interest, so as to assist our readers  in forming their opinions. Sometimes we even publish articles with which we totally disagree, since we believe it is important for our readers to be informed on as wide a spectrum of views as possible.