CRETE KONTOMARI –

The first mass execution of civilians in Europe
In May 1941 the Battle of Crete was cruel and merciless and largely destructive to the Germans. Who had heavy losses. The Battle of Crete and the heavy casualties of the German paratroopers forced Georing and Hitler not to re-use the paratroopers in the aftermath of World War II.
Lieutenant Horst Trebes was the only officer who escaped without being hit. The dramatic hours he lived that day were to seal the fate of the neighboring village of Kontomari.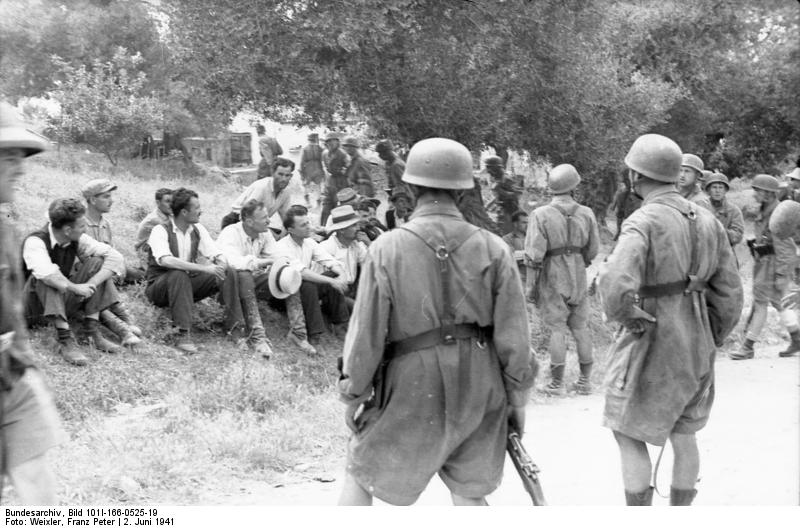 After the end of the battle and the final occupation of Crete, an excerpt from III Order, led by him, entered the village on the morning of June 3.
Scenes of the events were almost framed by a German photographer accompanying the paratroopers. And these photos were discovered in German archives forty years later by journalist Vassos Mathiopoulos.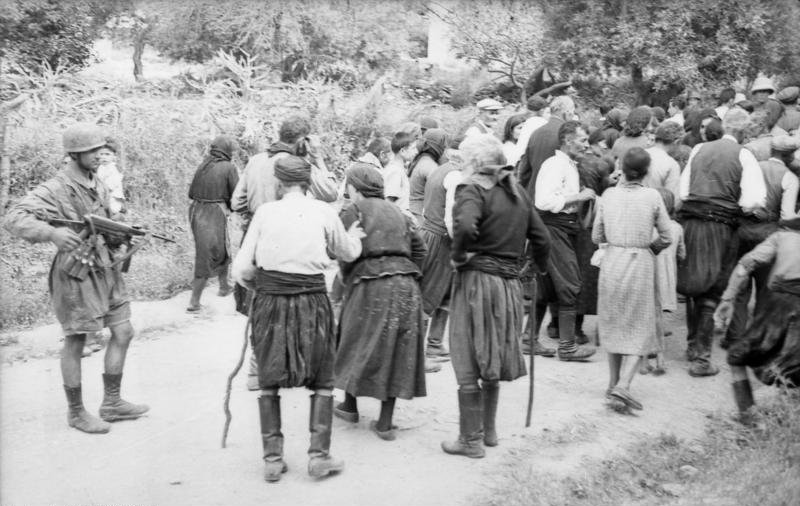 At noon on June 2, 1941, the paratroopers of Lieutenant Trebes, at the behest of General Stuent, as they said after the German war and defeat, invaded Kontomari, Chania. They arrested 25 male residents (aged 18 to 50) and executed them in the cold, without any further procedure.
Studend himself said he was ordered by Hermann Georing, who was also the head of German aviation.
The Germans then photographed the event in every detail. Lieutenant Vance Peter Wexler.
The photographic documents are from that photograph.
And they come from the German Federal Archives. As published in 1980 by Vassos Mathiopoulos in his book 'PICTURES OF OCCUPATION
 *  *  *

1941 – Kandanos of Chania
Crete has unfortunately witnessed many mass slaughter of civilians by the vengeful Germans.
And Kandanos, a hamlet in the prefecture of Chania, was to become one of the most gruesome monuments of German atrocity during World War II.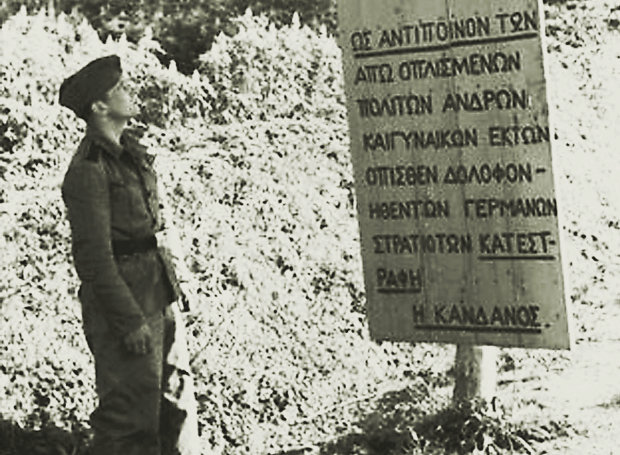 On June 2, 1941, the village was ruthlessly bombed and the next day the troops entered the community, burning and leveling all the houses. Then the Germans gathered around 180 residents outside the Primary School and massively executed them.
From German mania neither houses nor animals escaped.
While they were so hateful, they also left written monuments of their atrocity. Not only by acknowledging their crime, but also by propagating it. 
So in the following days, the Germans placed two inscription-signs on the Kandanu entrances. Written in German and Greek.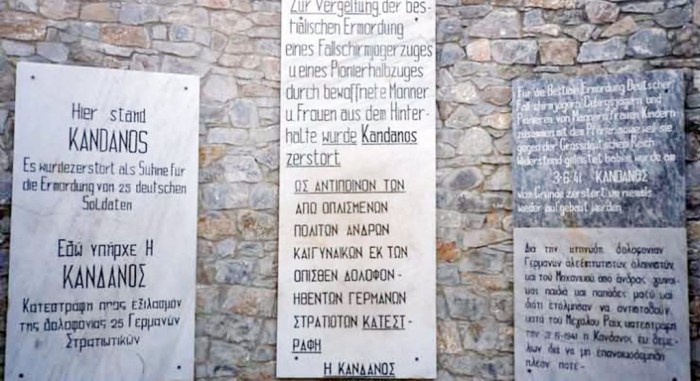 The first wrote: "For the brutal murder of German paratroopers, alpinists and engineers by men, women, children and priests together. 
And because they dared to resist the great Reich, the Kandanos was completely destroyed on 3/6/41, so that NEVER would not be rebuilt. " 
The second wrote: "Kandanos was destroyed, in retaliation against armed civilians, men and women, for the murdered German soldiers." The village was erased from the map …