By Philip Chrysopoulos

Although Greece is one of the top tourist destinations in the entire world, breaking arrival records year after year, one in two Greek people cannot afford one week of vacation away from home.
According to the EU's Eurostat statistical office, 51 percent of Greeks could not afford one week's stay at a holiday destination in 2018, as the tight family budget would not allow it.
Although Greeks were hard hit by the economic crisis, the phenomenon appears in other EU countries as well. According to Eurostat, 28.3 percent of the EU's population over sixteen years of age could not go on vacation for one week away from home in 2018.
The 2018 figures are more positive for Europe compared to previous years, though. The percentage for those who could not afford to go on vacation in 2013 — at the height of the debt crisis in Europe — was 39.5, and 39.7 points in 2012, marking a 11.2 percent decline in 2018 to 28.3 percent.
In Greece, however, the figure remains high in the past six years, with about half of Greeks, or 51 percent, unable to take a one-week vacation away from home in 2018. The corresponding percentage was 49 percent six years ago, in 2013.
In 2009, shortly before Greece was hit by the recession, the rate was 46.3 percent while in 2015 – the year capital controls were imposed – the number jumped to 53.7 percent. This was the highest rate ever seen in the period from 2009-2018.
Among EU member states in 2018, the countries with the highest rates of people who were financially unable to take vacations were Romania (58.9 percent), Croatia (51.3 percent), Greece and Cyprus at 51 percent each.
Remarkably, Greece is the only country where this percentage increased by 2 points over the last five years, from 49 percent in 2013 to 51 percent in 2018.
Southern European countries such as Italy, Spain and Portugal — are also high above the 28.3 percent average on the list. The last two countries experienced similar financial austerity programs to the one which Greece was forced to undergo in the past several years.
On the other end of the spectrum, Sweden, with 9.7 percent, Luxembourg, at 10.9 percent, and Denmark, with 12.2 percent, had the lowest rates of people who were unable to take a week's vacation due to financial difficulties.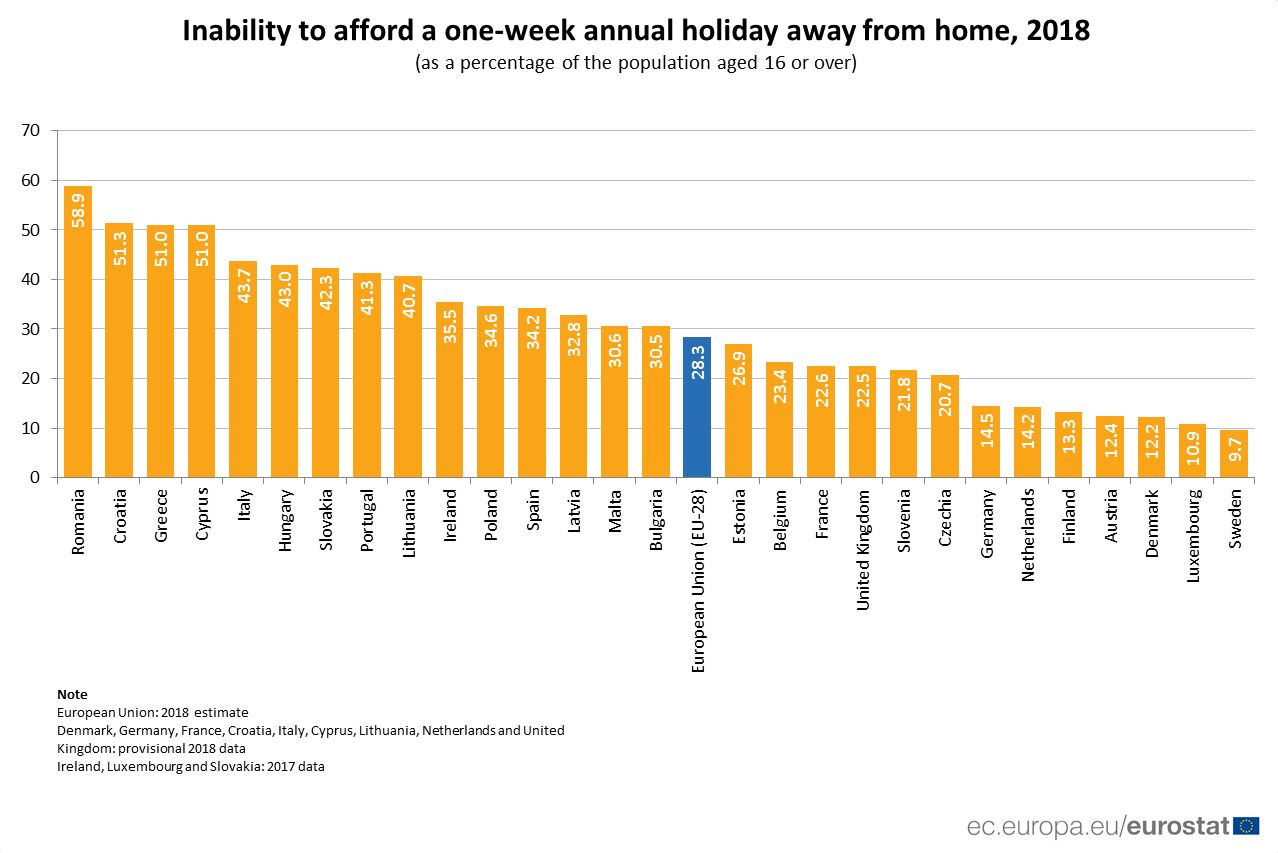 Published at https://greece.greekreporter.com/2019/08/04/one-in-two-greeks-cannot-afford-even-one-week-of-vacation/