THE RISE OF ASIA CONFERENCE SERIES
This series of conferences provides a platform for physical meeting, sharing, exchanges, studies, discussion, networkng and publication on diverse issues in contemporary world through a phenomenon widely recognised : THE RISE OF ASIA.
THE RISE OF ASIA 2019 PROGRAMME BOOKLET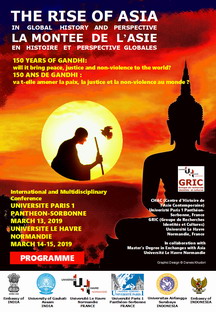 THE RISE OF ASIA IN GLOBAL HISTORY AND PERSPECTIVE
150 years of Gandhi : will it bring peace, justice and non-violence to the world ?
LA MONTEE DE L'ASIE EN HISTOIRE ET PERSPECTIVE GLOBALES
150 ans de Gandhi : va t-elle amener la paix, la justice et la non-violence au monde ?
INTERNATIONAL AND MULTIDISCIPLINARY CONFERENCE
Paris and Le Havre, France, March 13-15, 2019
Co-organised and hosted by
CHAC (Centre d'Histoire de l'Asie Contemporaine)
Univeristé Paris 1 Panthéon-Sorbonne, France
GRIC (Groupe de Recherches Identités et Cultures)
Université Le Havre Normandie, France
PARIS-LE HAVRE PROGRAMME OUTLINE, TRANSPORT, HOTELS
PARIS PROGRAMME
The Paris part of the conference will take place on Wednesday March 13, 2019, at :
09h00-12h00 : Université Paris 1 Panthéon-Sorbonne Amphitheatre IIA.
Access : either 12 Place du Panthéon or 131-133 rue Saint-Jacques 75005 Paris.
14h00-17h00 : Université Paris-Sorbonne Amphitheatre Descartes.
Access : 17 rue de la Sorbonne 75005 Paris.
The access to the two buildings is strictly controled by the University Police of Security. THE CONFERENCE PARTICIPANTS NEED A CONFERENCE BADGE TO ENTER. TO OBTAIN A BADGE, CONFERENCE PARTICIPANTS (PRESENTERS, CO-PRESENTERS, NON-PRESENTERS, GUESTS) NEED TO CONFIRM THEIR PARTICIPATION BEFORE MARCH 8, 2019.
For Presenters and Guests, you may download and follow the instruction at CONFIRMATION FORM or fill-in directly the ONLINE CONFIRMATION.
For Co-presenters and Non-presenters, please, download and follow the instruction at REGISTRATION FOR PARTICIPANTS (English) or INSCRIPTION DES PARTICIPANTS (Français).
LE HAVRE PROGRAMME UPDATED TOPIC LIST MARCH 10, 2019
LE HAVRE PROGRAMME SPACE-TIME FRAME UPDATED MARCH 10, 2019
PARIS PRE-CONFERENCE INFORMAL MEETING
In order to get to know each-other among the participants and to distribute the badges of the confirmed participants, the Conference Hosting Team proposes an informal meeting on Tuesday March 12, 2019, at 17:00 in front of the Opera House, Paris. The esplanade of Opera House is choosen as a meeting point because most of the international participants are expected to stay in the neighbourhood of Opera House or Saint Lazare Railway Station. In this way, they will not need to take any transport.
CONFIRMATION FORM
All presenters and guests are invited to confirm their participation by completing the confirmation form and send it completed before March 8, 2019, to the conference secretariat indicated in the form.
There are two possibilities to confirm :
To download and follow the instruction at the CONFIRMATION FORM
To fill-in directly the ONLINE CONFIRMATION
PRACTICAL GUIDELINES FOR PARTICIPANTS
SPECIAL SESSIONS
Samir Amin and the Rise of Asia : a Tribute
A source of fundamental references of The Rise of Asia conference series, Samir Amin has just left us "physically" on August 12, 2018 — "physically" because his numerous works continue to feed many of us "intellectually" in our academic, social and solidarity movements. That is why we propose a special session on "Samir Amin and the Rise of Asia : a Tribute" in our conference.
Other special sessions/panels/roundtables/workshops will be dedicated to :
Asia-Africa
Asia-Asia
Asia-Central & Eastern Europe and Russia
Asia-Middle East
Asia-Western World
BRICS
Ecology-Architecture-Urbanism
Gender-Women Issues
REGISTRATION FOR PARTICIPANTS
The registration concerns co-presenters and simple participants (those who do not present a paper). The paper presenters, moderators, hosts and guests are automatically registered and exempted from registration fee. The participant registration is not compulsory. The access to all the conference sessions is open to public with or without registration. However, those who are registered have the advantage of the right to :
1) A personalised badge
2) A copy of conference booklet delivered at the same time of the badge
3) A certificate of participation delivered at the end of the conference
4) Drinks during all the coffee sessions of the conference in Le Havre
5) Two lunches and two dinners in Le Havre for those registered with meals.
Registration fee : 20 euros (without meal) or 60 euros (with 4 meals).
The registration is open online from February 1 to March 8, 2019. Please, notice that THERE WILL BE NO REGISTRATION ON SITE.
For proceeding to registration, please, follow the links below :
REGISTRATION OF PARTICIPANTS (English)
INSCRIPTION DES PARTICIPANTS (Français)