A report by The Hill on Democratic candidates qualifying for the party's debates has one glaring omission – Hawaii Congresswoman Tulsi Gabbard.
The Hill cited a New York Times report detailing all the Democratic candidates who have made the cut to appear on the debate stage during the primaries. Gabbard is among 10 candidates who have qualified by surpassing both the donation and polling thresholds, and yet she was the only one of those candidate who was missing from the Hill's report on Thursday.
It's #IgnoreTulsiTime again. @thehill pic.twitter.com/rVe306gXxx

— K. Rosef 🌺 (@kayrosef) 10 Μαΐου 2019
The NYT article even included a Venn diagram of all the candidates, which featured Gabbard smack bang in the middle of it. The article was from April 30 and shows San Antonio Mayor Julián Castro as having qualified only on polling, but he has since reached the donor threshold.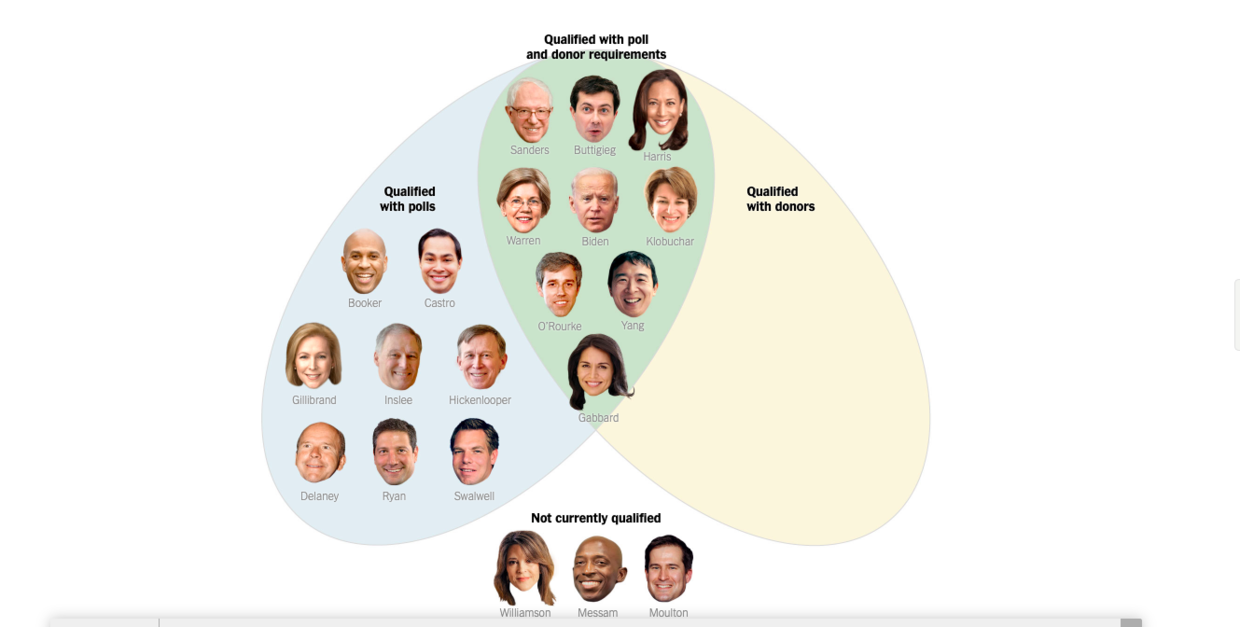 The Democratic National Committee rules require candidates to have raised donations from at least 65,000 unique donors with at least 200 donors in 20 different states, or hit at least one percent in at least three approved polls, to appear at the primary debates.
Gabbard's supporters have accused elements of the mainstream media of failing to give her adequate coverage.
I'm so sick of this. Go on YouTube and Tulsi is mentioned everywhere with endorsements by Joe Rogan and Jimmy Dore. Go to MSM and they pretend she doesn't exist. Could their bias be any more obvious? And it's the print media that is the worst. At least TV has her on sometimes. https://t.co/GqTVXdqNxw

— Tulslay Goddard 🌺 (@baeshaphero) 10 Μαΐου 2019
I will say, with how low she is polling I can't entirely blame them for ignoring her BUT I guarantee that will change once the debates start because she's the ONLY person talking about these important issues. Of course, then it will just be smears and attacks 🙄

— Whitney Olivia Weltz (@WhitneyWeltz) 10 Μαΐου 2019
Tulsi Gabbard, the most outspoken anti-war candidate for president. The mainstream media doesn't want you to hear from her — for a reason…. https://t.co/2KBUpEluP6

— Gilets Jaunes USA (@NuitDeboutUSA) 10 Μαΐου 2019