US Opens Jerusalem Embassy as Israel Slaughters Palestinians in Gaza
May 14, 2018
The Palestinian government "fully blamed" Israel for the deaths in Gaza, while decrying U.S. embassy move as an insult to the Palestinian people.
As Israel shoots unarmed Palestinians on its border with Gaza, killing at least 46 and injuring more than 1,700 so far Monday, the United States officially opened its embassy to Israel in Jerusalem, fulfilling a controversial pledge by U.S. President Donald Trump who has recognized the holy city as the Israeli capital.
"Today we open the United States embassy in Jerusalem, Israel," U.S. ambassador to Israel David Friedman said at the beginning of the inaugural ceremony, attended by a U.S. delegation from Washington and Israeli leaders.
Read more at www.telesurtv.net
US opens Jerusalem embassy on 'great day for peace' as dozens of Palestinians shot dead
14 May, 2018
The US has opened its embassy in Jerusalem following the highly-divisive decision by President Donald Trump last December. Pledges of peace during the ceremony came as dozens of Palestinians were killed by Israelis in protests.?
"President Trump, by recognizing history, you have made history!" said a beaming Benjamin Netanyahu during a passionate speech punctuated by frequent ovations, referring to the decision by "Israel's greatest ally" to relocate the embassy from Tel Aviv.
The Israeli Prime Minister said that Monday, which also marked 70 years since Israel's foundation, was a "great day for peace," adding that there can be no resolution to the Middle East conflict without accepting the "truth" of Jerusalem's status as the capital.
US opens embassy in Jerusalem: Which countries attended?
May 14, 2018
Thirty-three countries attend US ceremony to relocate its embassy to Jerusalem, says Israel's foreign ministry.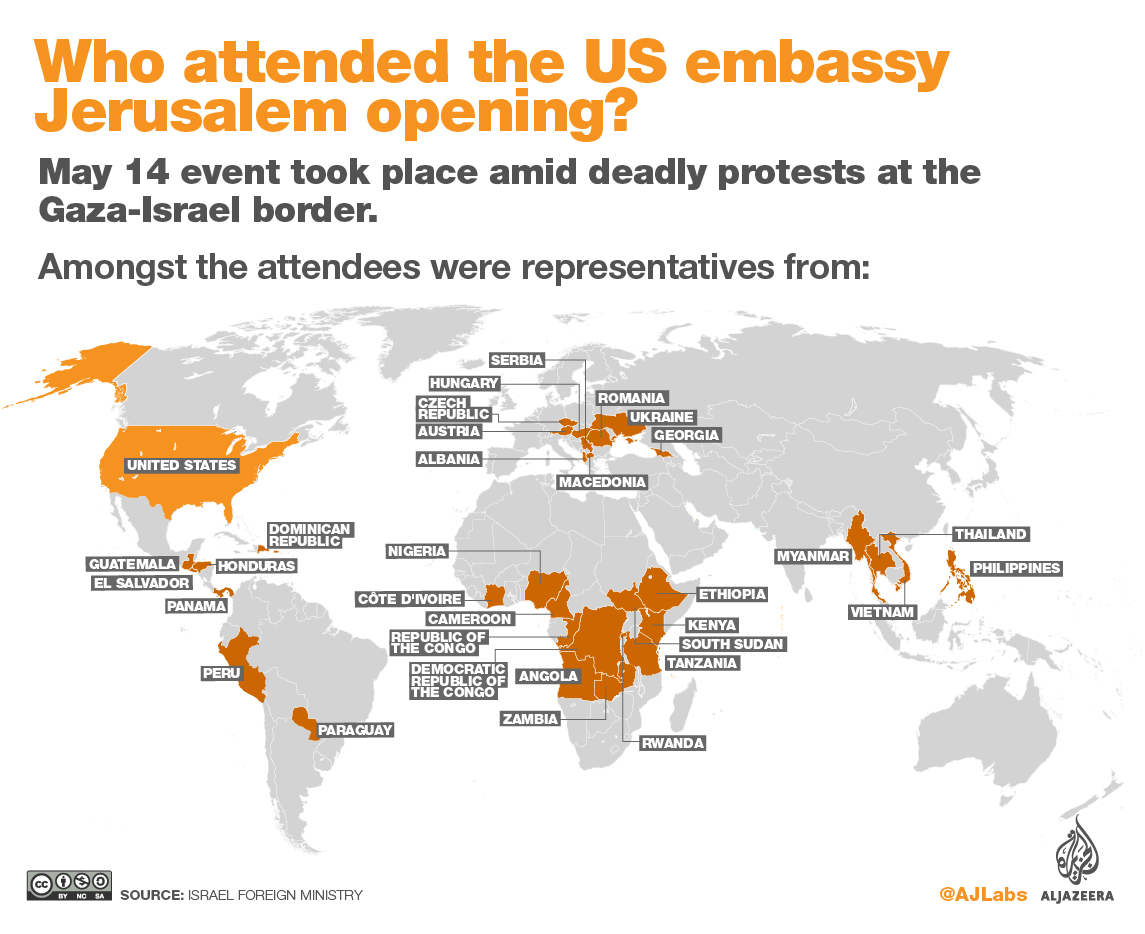 Read more at www.aljazeera.com
France Disapproves of US Embassy Move to Jerusalem
May 14, 2018
France does not approve of the US decision to move the country's embassy in Israel from Tel Aviv to Jerusalem, considers as it violates the international law, French Foreign Minister Jean-Yves Le Drian said.
"France does not approve of the US decision to move the US Embassy in Israel from Tel Aviv to Jerusalem, as the President of the Republic [Emmanuel Macron] has repeatedly stated. This decision violates international law, in particular, the resolutions of the UN Security Council and the UN General Assembly" Le Drian said in a statement.
Read more at sputniknews.com