Misleading clips from Syria, Libya, Lebanon and Palestine go viral, as Facebook launches an investigation into misinformation
By Rayhan Uddin
25 February 2022
Since Russia launched its invasion of Ukraine on Thursday, social media has been awash with videos claiming to show the latest developments on the ground.
At least 137 Ukrainians have been killed, including soldiers and civilians, as Moscow launched air strikes across its neighbouring country and Russian troops closed in on the capital Kyiv.
As one of the most serious escalations in violence in recent European history, the war is playing out in real-time on digital platforms.
But while social media has proven to be an invaluable source of information and live updates for many, it has also been a vehicle for spreading fake material.
Much of that has involved viral content purporting to show fighting between Russia and Ukraine, but actually coming from the Middle East and North Africa (MENA) region.
Here, Middle East Eye takes a look at some of the misinformation spreading online, originating from the region:
Syria
One particular video has been blamed for being a major source of fake news spreading online.
It shows aerial footage from an unmanned vehicle precisely targetting and blowing up artillery, including tanks. Social media users claimed it was taking place at the Ukrainian border, near the Kharkiv region.
The video was shared widely, most notably by one verified journalist.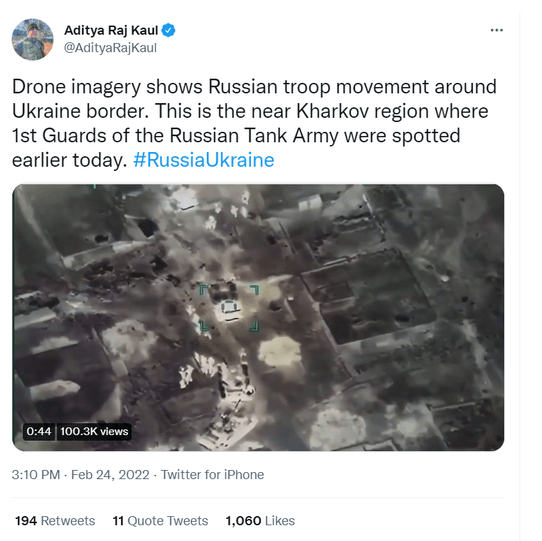 Several users replied to his tweet to clarify that the footage was in fact from two years ago, showing a Syrian government convoy being destroyed by Turkish Bayrakat TB2 drones in Maarat al-Numan, Idlib province. The original tweet has since been removed by Twitter.
Reports from March 2020 confirm that Turkish-made TB2 drones were being used by opposition forces in Idlib to target Syrian President Bashar al-Assad's forces.
Remarkably, the same footage was also shared on Facebook by Ukraine's land forces official account, with the caption: "UKRAINIAN ARMED FORCES RELEASED VIDEO WITH DESTRUCTION OF RUSSIAN MILITARY EQUIPMENT Bayraktar TB2."
The video remains up on the verified account and as a result, has been shared widely by Ukrainians and beyond, as it is believed by those sharing the video to be an example of brave resistance from Kyiv's forces.
MEE reached out to Meta for comment and they maintain that they have established a special operations centre to respond to activity on its platform in real-time.
"It is staffed by experts from across the company, including native speakers, to allow us to closely monitor the situation so we can remove content that violates our Community Standards faster," a spokesperson told MEE.
It said that it had launched an investigation into the post from Ukraine's land forces, which was still ongoing at the time of publication.
Ukraine recently deepened its defence ties with Ankara, including the purchase of 20 TB2 drones.
On Thursday, a Telegram account belonging to the "People's militia of the self-declared Lugansk People's Republic" claimed to have shot down two of the Turkish-made drones near the village of Schastye, north of Luhansk.
Libya
Another widely-circulating video claiming to show Ukrainian resistance also stemmed from the MENA region, namely, Libya.
Footage shared extensively claimed that a "Russian fighter jet [was] shot down by Ukrainian Air Defense". The clip shows a single jet catching on fire before rapidly falling to the ground after being shot down.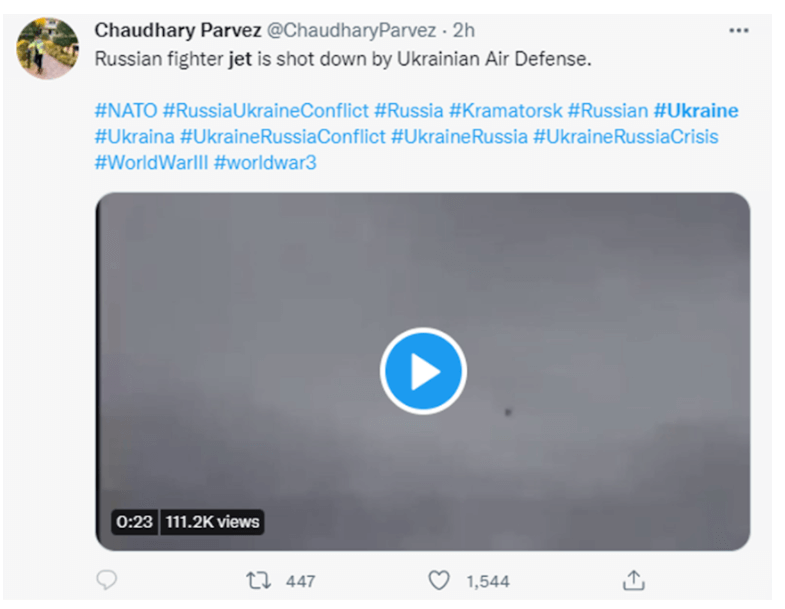 The video is not of a Russian jet in Ukraine, but of Libyan rebels shooting down a plane in the eastern city of Benghazi in March 2011, during the war that eventually led to the downfall of longtime ruler Muammar Gaddafi.
The most prominent iteration of the tweet has since been removed by Twitter for violating its rules.
The same clip, again purporting to show a Russian jet being shot down, received over 48,000 views on Facebook, according to the Associated Press.
"As is almost always the case in times of war, the online information environment becomes polluted incredibly quickly," Layla Mashkoor, associate editor at the Atlantic Council's digital forensic research lab, told MEE.
"Old and recycled videos begin circulating online, sometimes innocently by people who don't know better, and other times by malicious actors seeking to sow panic and chaos."
She added that the same phenomenen occured in Palestine and Afghanistan last year, and that it was an uphill battle trying to control the spread of misleading content, given the sheer scale.
"Social media users need to exercise caution and vigilance online and always check the source."
Lebanon
In arguably one of the most audacious attempts at spreading fake news, some social media users shared recognisable footage of the 2020 Beirut port blast in Lebanon.
"The U.S. imperial prophecy has finally come true, and Putin the Great (Russia) has attacked Ukraine," one tweet read.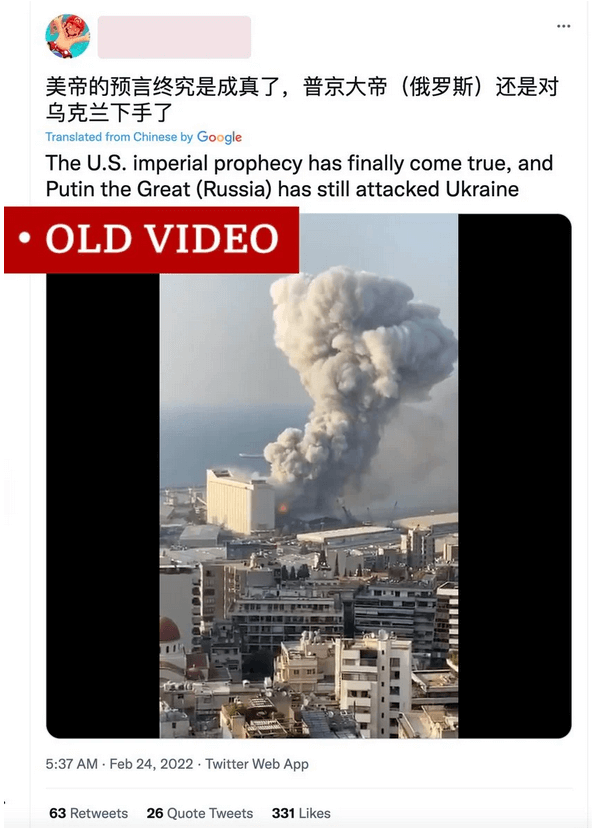 The 30-second clip shows smoke billowing above buildings in the Lebanese capital, before a huge explosion creates a massive fireball.
The two most engaged tweets sharing this particular video have since been removed by Twitter.
The Beirut blast was one of the biggest non-nuclear explosions in history, caused by the detonation of tonnes of improperly stored ammonium nitrate in a port hangar. It killed up to 251 people and injured at least 6,500 others.
Ali Hajizade, a Middle East analyst specialising in disinformation, told MEE that the Covid-19 pandemic had exacerbated fake news.
"The pandemic has caused a flood of misinformation and disinformation. Marginalised people, conspiracy theorists, pseudo-scientists, who previously were barely known even in narrow circles, obtained a narrative," he said.
"Even if, for example, Facebook tries to somehow fight the spread of fakes about the pandemic, then Telegram, which has hundreds of millions of users, does pretty much nothing."
He added that the pandemic had created social and political divisions which were 'spilling over onto social media', and that big tech platforms were 'ineffective' in curbing resulting disinformation.
Palestine
Much of the misleading footage being linked to the Russia-Ukraine crisis has come from the Gaza Strip – not least due to the recency of the escalation of violence in Israel-Palestine in May last year.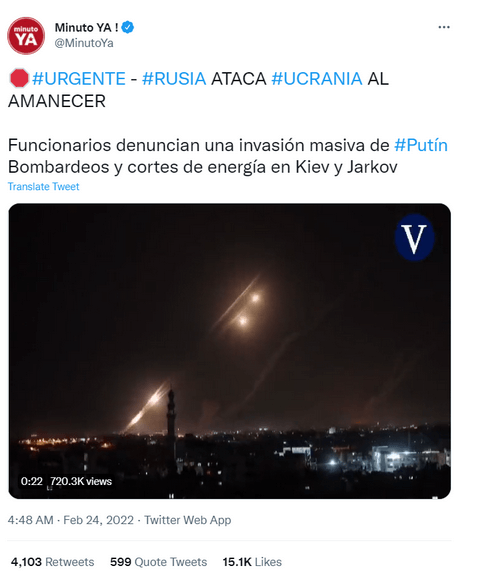 MinutoYa, a verified (blue-ticked) Argentinian publisher posted a video, which remains up, with the caption: "#URGENT – #RUSSIA ATTACKS #UKRAINE AT DAWN. Officials denounce a massive invasion of #Putín. Bombings and power outages in Kiev and Kharkov."
The tweet was accompanied by a video showing missiles tearing through the sky.
The footage was in fact from Gaza, showing rocket attacks launched by militant groups in the Palestinian enclave headed towards Israel. Most of these rockets were intercepted by the Iron Dome air defence system.
The clues were there: mosques can be seen in the background, the Muslim call to prayer can be heard, and people are audibly speaking Arabic.
Several accounts on Facebook shared one particular image of an air strike, claiming to show Kyiv under attack from Russian bombs.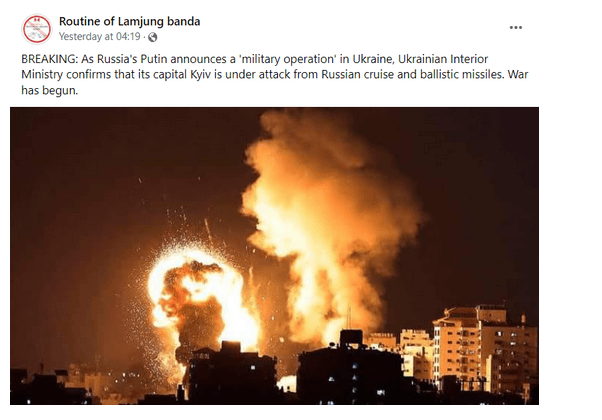 It in fact showed an Israeli air strike on Gaza captured by AFP photojournalist Mahmud Hams on 10 May 2021.
On Twitter, one user posted the caption: "Vladimir Putin has begun shelling the capital of the Ukraine," with a picture of buildings in Gaza flattened by Israeli bombing.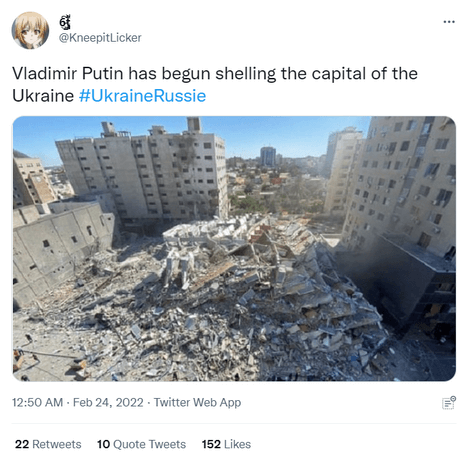 Upon criticism in the replies, the user attempted to clarify by stating: "Pic unrelated. I used it as an example of what shelling looks like and Russian bots are trying to say it didn't happen bc of it."
As the conflict between Russia and Ukraine escalates, a barrage of fake videos and misinformation continue to spread online, with social media platforms scrambling to remove content which they say violates their guidelines.
This article is available in French on Middle East Eye French edition.
Published at www.middleeasteye.net
---
Ukraine's Defense Ministry posted fake video as air battle
The verified Twitter page of the Ukrainian Defense Ministry published video game footage on February 25 claiming to show a Ukrainian fighter jet shooting down a Russian plane. On Saturday, Reuters fact-checked the widely shared fake video as 'miscaptioned'.
The ministry's tweet was still up at the time of publication. The 15-second video is accompanied by the caption, "What is this Ukrainian ace doing?" The Defense Ministry's account describes it as a MiG-29 fighter jet destroying a Russian Su-35 jet with a missile
#stoprussia
Що виробляє цей український ас 😳🤜
——————————————–
МіГ-29 Повітряних Сил ЗСУ знищує "нєімєющій аналогов" Су-35 російських окупантів ❌❌❌ pic.twitter.com/z6YVnm8ezo

— Defence of Ukraine (@DefenceU) February 25, 2022
Social media users were quick to point to the YouTube video 'Ghost of Kiev. Dogfight between Ukrainian MiG29 and Russian Su27 simulated in DCS World'. The clip, which has over a million views, refers to an unconfirmed but quickly spreading story about the 'Ghost of Kyiv' Ukrainian ace, who allegedly managed to single-handedly down six enemy aircraft.
However, that clip was first uploaded to YouTube with the title 'Ghost of Kiev kill'. The uploader claimed the footage was made with a digital combat simulator in the description box.
DCS stands for Digital Combat Simulator World, a digital battlefield game developed by Eagle Dynamics.
A spokesperson for the company Matthias Techmanski confirmed in an email to Reuters that the footage was from DCS, and that Eagle Dynamics was "not responsible for its distribution," and does not endorse "such content."
The Reuters fact check said the footage was 'miscaptioned' and comes from a video game. Twitter on Saturday flagged the Ukrainian Defense Ministry's post as misleading. It said that "this media is presented out of context."
Some users deleted the misleading video and apologized.
There have been a number of other videos making their way around social media described as footage of the ongoing military conflict in Ukraine, thus highlighting the long-standing problem in which unverified videos with little to no context or research end up being spread throughout social media and are even picked up by government accounts.
Published at www.rt.com
Also read
We remind our readers that publication of articles on our site does not mean that we agree with what is written. Our policy is to publish anything which we consider of interest, so as to assist our readers  in forming their opinions. Sometimes we even publish articles with which we totally disagree, since we believe it is important for our readers to be informed on as wide a spectrum of views as possible.