Tony Blair should be heading to The Hague. Instead, on 13th June he will be heading to the castle at Windsor where he will be knighted by the Queen.
Despite the disastrous legacy of Blair's foreign policy the British establishment has learnt few lessons. Blair has blood on his hands and is personally responsible for the deaths of thousands of innocent civilians and servicemen in Afganistan and Iraq. He is the least deserving person of any public honour.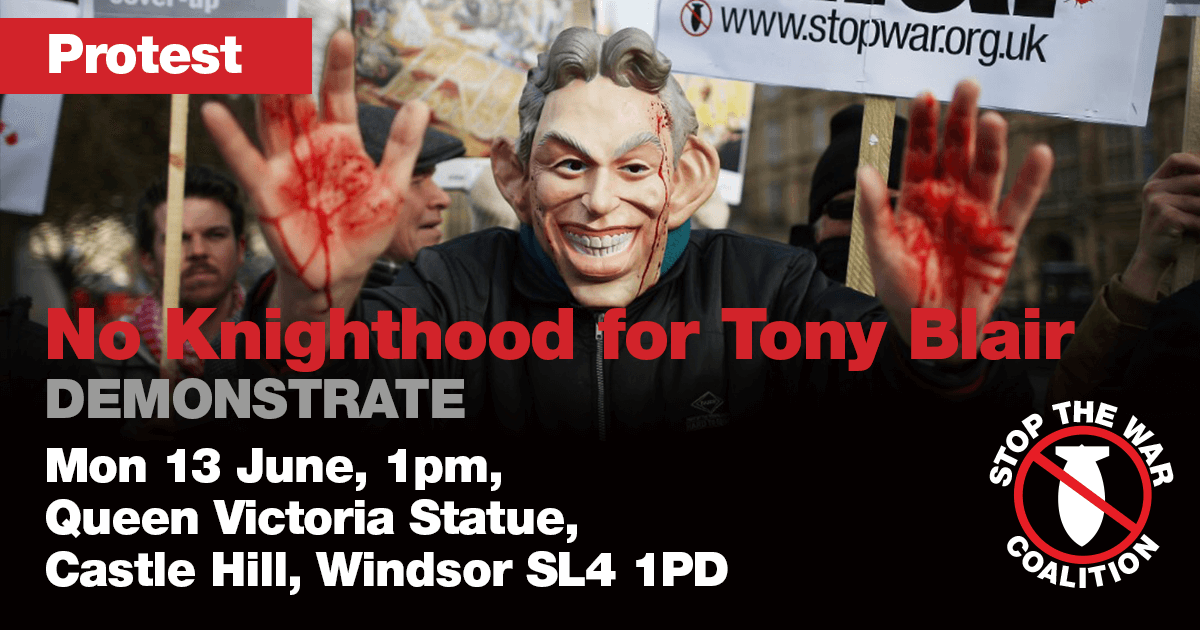 Join the Stop the War protest at the annual Garter Day procession in Windsor and let the world know there is only one court that Blair should be attending, and it's not the royal one.
We're assembling at 1pm at the Queen Victoria Statue on Castle Hill, Windsor, SL4 1PD to say 'Jail Blair! No knighthoods for war criminals'.
For those traveling from London we will be meeting at Paddington Station at midday for the 12:20 train. Changing at Slough at 12:36.
We remind our readers that publication of articles on our site does not mean that we agree with what is written. Our policy is to publish anything which we consider of interest, so as to assist our readers  in forming their opinions. Sometimes we even publish articles with which we totally disagree, since we believe it is important for our readers to be informed on as wide a spectrum of views as possible.