By Asa Winstanley
15 April 2023
A fighter with a notorious Ukrainian Nazi group has been receiving medical treatment in Israel.
Social media accounts close to the Azov Battalion posted photos of Arseniy Fedosiuk and his wife Yulia visiting foreign diplomats and the Ukrainian embassy to Israel in March.
In further details posted by the "Association of Families of the Defenders of Azovstal" on a Telegram account, the pro-Azov group revealed that Fedosiuk "is undergoing treatment and rehabilitation in Israel in order to return to the ranks and defend Ukraine as soon as possible."
The accounts gave no details on when Fedosiuk arrived in Israel, when he was released from Russian jail or the nature of his injuries.
🇺🇦🇮🇱 Боєць «Азову» Арсеній Федосюк з дружиною Юлією за підтримки посольства України в Ізраїлі провели зустріч з фондом «Фонд Маша»

Деталі: https://t.co/ah5TT4BFPf pic.twitter.com/jrmNF9KNx4

— Асоціація родин захисників «Азовсталі» (@AzovstalFam) March 11, 2023
🇮🇱 Сержант «Азову» Арсеній Федосюк з дружиною Юлією провели низку зустрічей з посольствами іноземних держав у Тель-Авіві

Деталі: https://t.co/z5pSbgsHDG pic.twitter.com/cLK1qKh4ny

— Асоціація родин захисників «Азовсталі» (@AzovstalFam) March 31, 2023
Fedosiuk was one of the 1,000 or so Azov combatants captured by the Russian army during the final battle at the Azovstal steel plant in Mariupol, in eastern Ukraine in May last year.
As The Electronic Intifada reported, his wife Yulia Fedosiuk was in Israel in December, along with Azov intelligence officer Illia Samoilenko, to lobby Israeli politicians to help secure the release of Ukrainian Nazis captured by Russia.
At the time, Arseniy Fedosiuk was still held by the Russians.
A posting on Yulia Fedosiuk's Instagram account indicates that her husband was released in January. In the posting, she appeared to credit his release as coming thanks to her campaigning with "the Pope, the US Congress [and] the Israeli Knesset."
During her visit with other Azov Nazis to Israel last year, Yulia met Naama Lazimi, a leading lawmaker with Israel's Labor Party.
Lazimi was so embarrassed by The Electronic Intifada's exposé that her spokesperson asked us to remove her name from the article soon afterwards. We refused to do so, of course.
Russia and Ukraine have engaged in a series of prisoner exchanges since the Russian military operation in Ukraine began in February 2022.
The Russian TV channel RT reported last month that an exchange of 90 Russian soldiers for 130 Ukrainians combatants had included 87 soldiers from Mariupol, including 71 from the Azovstal steel plant.
According to the Ukrainian government, most of those released from Russian prisons in the March exchange had "serious injuries." Fedosiuk was injured by shrapnel, his wife said in an interview with the Latvian website Meduza last year.
Anti-feminist far-right activist
Yulia Fedosiuk is an important figure in Ukraine's far right.
She told Meduza that she is a parliamentary assistant for Sviatoslav Yurash, a lawmaker in President Volodymyr Zelensky's political party, Servant of the People (which was named after the Ukrainian sitcom that brought Zelensky to fame).
According to Oleksiy Kuzmenko (a researcher for the pro-NATO, EU-funded group Bellingcat), Yulia Fedosiuk was leader of an anti-feminist group, Silver of the Rose, which is closely associated with Azov.
.@5050oD video on #DomesticViolence features anti-feminist 🇺🇦 groupuscule "Silver of the Rose"which describes itself as rooted in "European Identity", "traditional view on women", opposed to "neo-liberal feminism". The shot used is SOR carrying a coffin with "Feminism" on it https://t.co/ZHVUrWKBj5 pic.twitter.com/Z2ZXoRrtFc

— Oleksiy Kuzmenko (@kooleksiy) May 4, 2020
"Silver of the Rose" anti-feminist groupuscule that appears in @5050oD video is linked to far-right Azov movement. SOR's leader Fedosyuk has a role in Azov's book club/publisher "Plomin". In this photo she's next to leaders of Azov's violent National Corps, National Militia wings pic.twitter.com/1YSWHly08n

— Oleksiy Kuzmenko (@kooleksiy) May 4, 2020
She has also been involved in Azov's book publisher Plomin, which has published Ukrainian translations of several prominent European fascists.
On her Instagram account last year, Yulia Fedosiuk posted a photo of herself selling Plomin books with her "close friend" Sergei Zaikovsky, an Azov fighter who died in the war.
The Times of London lauded Zaikovsky after he was killed.
The newspaper noted how he was described at his funeral as "a rare intellectual, a scholar and a linguist." It condemned Vladimir Putin, the Russian president, for his "bitter rhetoric around denazification" in Ukraine.
In fact, Yulia Fedosiuk's posting shows that Zaikovsky was an unrepentant fascist and white supremacist.
Zaikovsky, Yulia Fedosiuk boasted, while working with her for Plomin, translated a "galaxy" of "authors significant for our common cause," including noted Italian fascist and Nazi spy Julius Evola, French inspiration to the alt-right Alain de Benoist and fascist Romanian historian Mircea Eliade.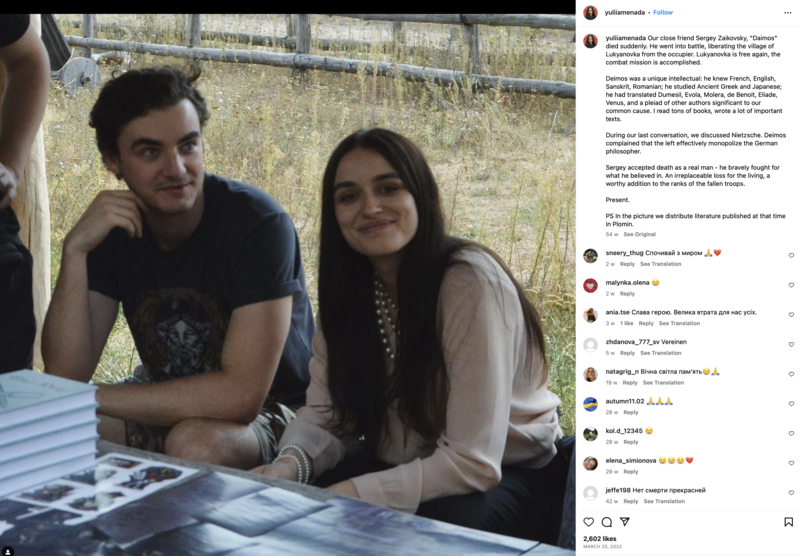 Silver of the Rose describes itself as being rooted in the "traditional view on women" and "European identity." In one of its most notable publicity stunts, it carried out a mock funeral, with Yulia Fedosiuk herself among those "mourning" beside a coffin marked "feminism."
In her interview with Meduza, Yulia Fedosiuk claimed to have studied ancient Greek and taught her husband the language.
"My husband and I always planned to take a long trip through Europe," she told the website. "We really love antiquity, the history of ancient Rome and ancient Greece, and we wanted to spend some time in that setting."
Since the days of Mussolini and Hitler, the far right has been obsessed by ancient Greece and Rome, which they often conceive of as the birthplace of "western" or "white" civilization. Historians, of course, have taken more nuanced views, with some even conceiving of ancient Greece as a very largely Afro-Asiatic civilization.
Moss Robeson, a journalist and expert on the Ukrainian far right, has documented how Yulia Fedosiuk more recently took part in delegations to the US as part of "Azov's recent outreach in the country, including efforts to reverse Congress' ban on the US supplying arms and training to the Azov Regiment."
According to pro-Azov Argentinian journalist Gustavo Sierra, Yulia Fedosiuk herself "received military training." So has her husband Arseniy.
On her Instagram profile in 2021, she posted two videos of herself firing guns.
Israeli aid to Nazis
Israel has close ties to both Russia and Ukraine.
Despite Volodymyr Zelensky complaining that Israel has declined to provide Ukraine with the Iron Dome missile system, arms, training and fighters from Israel have in fact reached Ukraine. The Azov Battalion has directly received Israeli assistance.
Earlier this month Tel Aviv daily Haaretz profiled David Young, an Israeli police officer who retired from the force after 22 years in order to go and fight Russia in Ukraine.
Young, the paper explained, "has no ancestral ties to Ukraine" and was born in the UK. He converted to Judaism, changed his name to Ariah Ben Yehudah and, in 1991, emigrated to occupied Palestine to become an Israeli settler.
He stitched an Israeli flag on his Ukrainian army uniform, "because I'm Israeli and I want to advertise that Israel is fighting in Ukraine. And it's symbolic."
In April last year, video emerged of Israeli mercenaries fighting in Ukraine, thanking the Israeli government for "helping us" in their war against Russia.
Also that month, video posted online by Azov showed that Israeli anti-tank weapons were being used by the unit.
Far right origins
The Azov Battalion began as a gang of far-right street thugs. Its activists formed the vanguard of the 2014 US-backed "Maidan" coup which overthrew the elected government of Ukraine. Soon after, it was integrated into Ukraine's armed forces, where it remains.
In 2018, Israeli human rights lawyer Eitay Mack wrote to the Israeli government to object that the country's aid to Ukraine was being used by neo-Nazis.
In response, the government confirmed that its arms licenses to Ukraine were granted "in full coordination with the Ministry of Foreign Affairs and other government entities" but did not deny arming Ukrainian Nazis.
The Electronic Intifada's 2018 exposé of Israel's arming of Ukrainian Nazis caused a minor diplomatic incident, when Ukraine's ambassador to Israel wrote a formal complaint to Haaretz after the newspaper echoed our reporting.
Mack petitioned Israel's high court to stop the state arming Ukrainian Nazis. The government responded by requesting hearings be held behind closed doors and imposing a gag order on the press.
With translation from Spanish by Ben Norton.
We remind our readers that publication of articles on our site does not mean that we agree with what is written. Our policy is to publish anything which we consider of interest, so as to assist our readers  in forming their opinions. Sometimes we even publish articles with which we totally disagree, since we believe it is important for our readers to be informed on as wide a spectrum of views as possible.