By Roland Hipp *

This story was originally posted by Greenpeace Germany
After decades of protests, the era of nuclear power in Germany has ended. Roland Hipp, Managing Director of Greenpeace Germany, looks back – and with joy into the future.Millions of people worked towards this day for years. People who protested against reprocessing plants, nuclear waste transport, unsafe nuclear waste storage facilities and the construction of new nuclear power plants. Those decades of resistance were worth it.

The German nuclear phase-out is a victory of reason over the lust for profit; over powerful corporations and their client politicians. It is a people-powered success against all the odds.

I thank all the brave people who took risks for their beliefs; everyone who took part in demonstrations; all the people who signed petitions and sent letters of protest. And I'm proud of the role Greenpeace has played in opposing high-risk nuclear technology.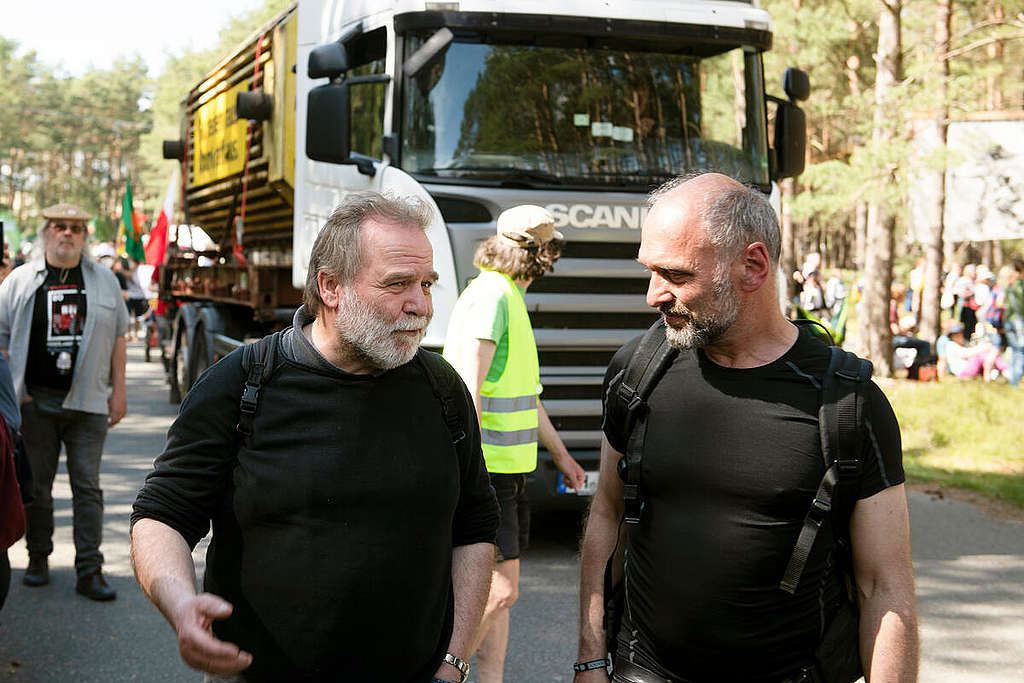 In the current debate about the last remaining nuclear power plants in Germany, it is often forgotten how big the movement against nuclear plants was in this country, even before the catastrophic events at Chornobyl and Fukushima.
The construction of the planned reprocessing plant in Wackersdorf was stopped in 1989 after years of widespread protest, a first major success of the anti-nuclear movement, with which Greenpeace is inextricably linked.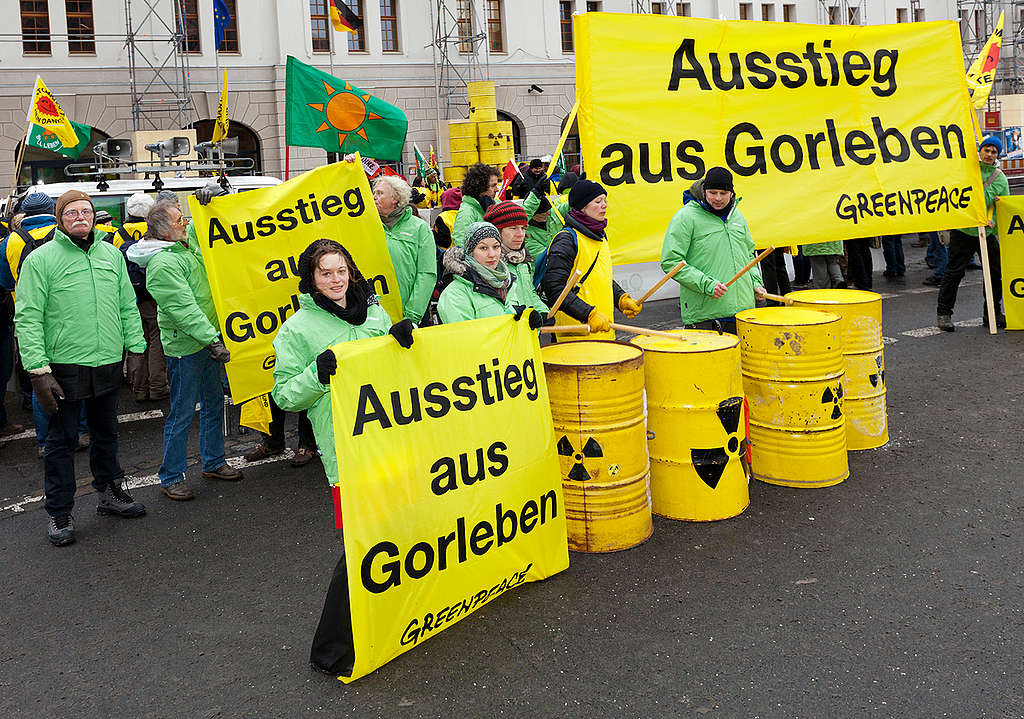 Greenpeace: protest and research
Greenpeace has repeatedly protested against the transport of nuclear waste from German nuclear power plants to the reprocessing plants in Sellafield (England) and La Hague (France) and was also able to prove that these plants are anything but harmless.
Greenpeace measurements from 1998 showed that soil samples from the vicinity of the Sellafield nuclear plant were comparable to radioactively contaminated samples taken from the 30-kilometre exclusion zone around the Chornobyl reactor.
At the turn of the century, in the North Sea off La Hague we found radiation levels well above regulatory limits, revealing routine illegal discharges of radioactive waste water.
In 2005, shipments to so-called nuclear fuel recycling plants in England and France from Germany were banned. This is also a success of Greenpeace, of protest based on facts.
The latest major milestone of the anti-nuclear movement, here in Germany, was the decision against the Gorleben repository. Once again, the nuclear industry and their political apologists were unable to oppose or overwrite the science: the dilapidated salt dome is demonstrably unsuitable for storing radioactive waste, which must be kept safe for hundreds of thousands of years.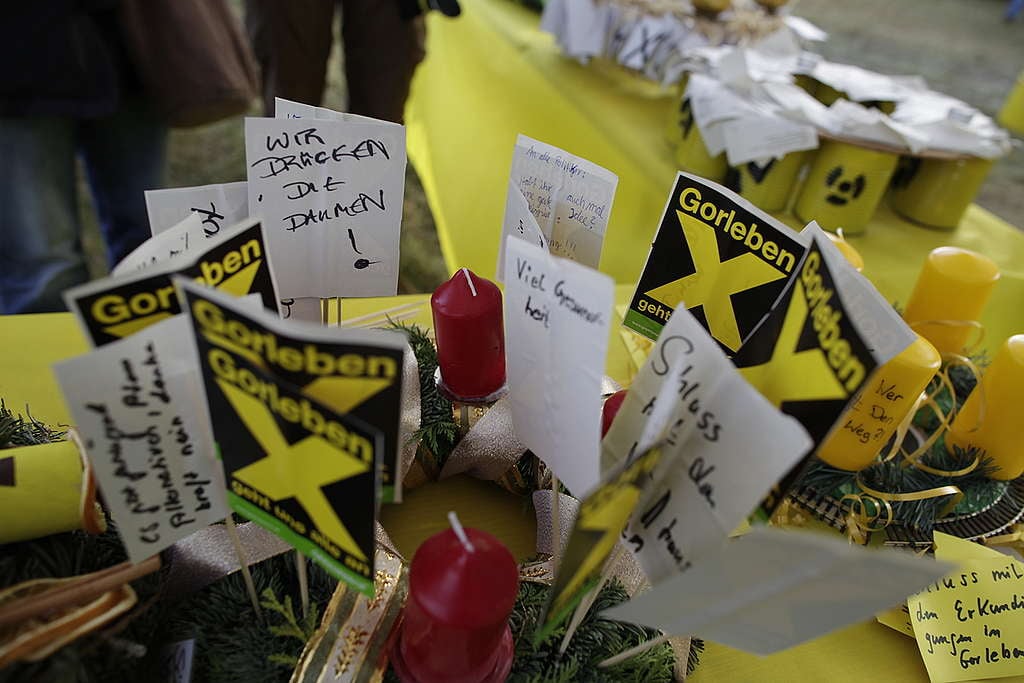 At the same time, the success points to the huge problem that advocates of nuclear power want to pass on to future generations: there is not one single safe repository for nuclear waste anywhere in the world. It is also good that Germany will not produce any new nuclear waste after 16 April.
Nuclear power is not only risky, but also not a solution to the energy crisis. Before the anniversary of the Fukushima disaster, Greenpeace activists are calling for the German nuclear power plants to be finally switched off.
The accidents in Chornobyl and Fukushima have shown us in the most emphatic way that this technology cannot be controlled by humans in the event of a disaster. The German Federal Government's decision in 2011 to shut down nuclear power plants was correct at the time, and it still is.
Nuclear energy is expensive, risky and far from independent: more than half of the uranium traded worldwide comes from Russia, Kazakhstan and Uzbekistan. With resources no longer squandered on the false promise of nuclear energy, following its removal from the energy mix, the renewable energy transition can finally pick up speed. I look forward to a safe and secure future with renewable energies, without fear of the next nuclear accident and misguided investments in error-prone and outdated technology.
Today I celebrate the nuclear phase-out and the many people who made it possible.
* Roland Hipp is the Managing Director of Greenpeace Germany.
We remind our readers that publication of articles on our site does not mean that we agree with what is written. Our policy is to publish anything which we consider of interest, so as to assist our readers  in forming their opinions. Sometimes we even publish articles with which we totally disagree, since we believe it is important for our readers to be informed on as wide a spectrum of views as possible.