by Tyler Durden
Tue, 05/29/2018
Update: Following what must have been a full court press by the top brass in Brussels on EU budget commissioner, Guenther Oettinger, to retract his statement that "the markets will lead Italians not to vote much longer for the populists", which as we reported earlier infuriated Italians because it revealed the true nature of "democracy" in Europe, Oettinger found himself with no way out but to apologize for a comment that would have assured a negative outcome in the upcoming Italian Euro referendum:
OETTINGER APOLOGISES FOR HIS COMMENTS ON ITALY, SAYS DID NOT MEAN TO BE DISRESPECTFUL: RTRS
Unlike ABC and Roseanne, he doubt the EU will cancel the "Oettinger Show" as yet another unelected bureaucrat is allowed to slide after exposing the truth about what democracy really means to Europe: keep voting until you get the outcome we want.
* * *
When it comes to Italy, unlike most other insolvent European nations which at least have an passing ideological affinity toward the EU and the common currency project, the Italian population has been growing increasingly disenchanted and belligerent over the years toward the EU, and as shown in the BofA chart below, Italians score the lowest when answering if "EU membership has benefited the country" or if "the EU contributes to economic growth in the country."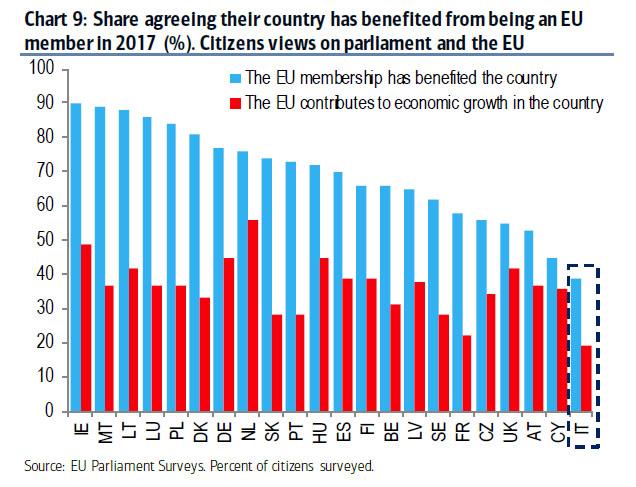 Between the growing animosity toward Europe, and the recent political chaos in Rome, where the country's president – under implicit orders from Europe – blocked the formation of a democratically-elected parliament just because he didn't like the Euroskeptic finance minister, one would think that Europe would keep a lower profile and certainly not say any words out of place that may further infuriate the Italians, who are not set to vote not only in a repeat round of national elections, but what is shaping up to be a nationwide referendum on the euro.
So what does Europe do? With all the grace of a drunk elephant (not to be confused with Jean-Claude Juncker) in an Italian China store, Europe uttered not one but several words very badly out of place.
And the reason why Italians are seething with growing rage aimed squarely at Europe's unelected institutions, is because European Budget Commissioner, German Guenther Oettinger, said the one thing that he should not have: that "the negative development of the markets will lead Italians not to vote much longer for the populists" according to an interview set to be published in Deutsche Welle later in the day.
Oops.
The Italian reaction was fast and furious, with the anti-establishment 5-Star Movement and anti-migrant Euroskeptic League both blasting Oettinger for bringing up Italy's painful past, when the ECB's indirect intervention in Italian markets prompted the resignation of Berlusconi back in 2011, with his suggestion – which while 100% accurate makes a mockery of the one thing that nobody dares to talk about, that there is no democracy in the EU – that markets would persuade Italians not to vote for the two populist parties.
The head of 5-Star's European Parliament delegation, Laura Agea, said "we ask European Commission President Jean-Claude Juncker to immediately deny Commissioner Oettinger. Quoted by Ansa, she said  "his words are of an unprecedented gravity and are proof of the clear manipulations that Italian democracy has suffered in the last few days".
League leader Matteo Salvini pounced: "They are without shame in Brussels. "The European budget commissioner, Germany's (Guenther) Oettinger, says that 'the markets will teach Italians to vote for the right thing'. If that isn't a threat…I'm not scared #Italiansfirst".
🔴 PAZZESCO, a Bruxelles sono senza vergogna.
Il Commissario Europeo al Bilancio, il tedesco #Oettinger, dichiara "i mercati insegneranno agli italiani a votare per la cosa giusta".
Se non è una minaccia questa…
Io non ho paura, #primagliitaliani! pic.twitter.com/r5mFYh79Ou

— Matteo Salvini (@matteosalvinimi) May 29, 2018
Indicating just how tone deaf Europe is vis-a-vis Italy's populist anger, even a spokesperson for the supreme bureaucrat himself, European Commission President Jean-Claude Juncker, said that Oettinger's remark was "ill-considered."
"Juncker has been informed of this ill-considered comment, and has asked me to clarify the Commission's official position: it is up to the Italians and only them to decide the future of their country, and to no one else".
Others also scrambling to do damage control, as European Council President Donald Tusk also appealed to European institutions to respect Italian voters after Oettinger's remarks, saying "my appeal to all European institutions is please, respect the voters: we are here to serve them, not to lecture them".
By this point it was, however, too late and Italy's anger and disgust with Europe not only just hit an all time high, but likely assured that the upcoming "euro referendum" election will be a landslide.
And speaking of said election, according to Italy's LA7 TV channel, Italian parties are now considering to hold the vote on either July 29 or August 5.
And there goes every European's 4-6 week summer vacation.
Published at https://www.zerohedge.com/news/2018-05-29/italians-outraged-after-eus-oettinger-says-markets-will-teach-them-not-vote
Euro-German Financial Totalitarianism
'Brussels has NO SHAME!' Italian eurosceptic leader TEARS into eurocrat over 'threats'
EUROSCEPTIC politician Matteo Salvini ripped into EU Commissioner Günther Oettinger after the German eurocrat suggested financial markets would "teach Italians to vote for the right thing".
By Aurora Bosotti

The eurosceptic leader exploded at Günther Oettinger after the EU bureaucrat claimed the collapse of Italy's would-be Government would "teach Italians" not to back populist parties.
Mr Salvini took to social media to launch a scathing response to the perceived "threats" to Italy of the German politician, saying: "INSANE, Brussels has no shame.
"EU Commissioner for Budget, the German Oettinger, says 'markets will teach Italians how to vote for the right things.'
Read more at https://www.express.co.uk/news/world/966588/Italy-news-Oettinger-EU-Matteo-Salvini-Lega-political-crisis-latest-video-M5S-Juncker
Juncker says Italy's 'fate' not ruled by finances, EU's budget chief thinks otherwise
29 May, 2018
EU President Jean-Claude Juncker said Italy's fate is not "in the hands of financial markets," apparently replying to earlier comments by EU's budget chief who said finance turmoil would teach Italians not to vote for "populists."
"Italy's fate does not lie in the hands of the financial markets. Regardless of which political party may be in power, Italy is a founding member of the European Union that has contributed immensely to European integration," Juncker said in a statement.
Read more at https://www.rt.com/news/428152-juncker-italy-financial-markets/