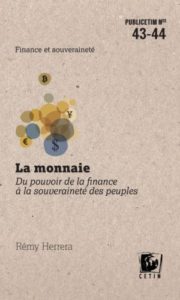 Qu'est-ce que la monnaie, d'où vient-elle, à quoi sert-elle ?
Accroît-elle les inégalités nationales et internationales ?
Pour beaucoup, ce sont des questions techniques, voire rébarbatives. Les économistes, eux, s'opposent sur le sens à donner aux fonctions de la monnaie. Pourtant, sa réalité, qui détermine les conditions de vie concrètes de chacun et chacune, comme celles des peuples de la planète, mériterait d'être discutée. Largement, démocratiquement.
Le livre de Rémy Herrera analyse comment l'évolution du système mondial capitaliste a consolidé, au cours des décennies, la suprématie du dollar étasunien, mais aussi de quelle manière cette hégémonie est depuis peu remise en cause, tant par les initiatives de résistances étatiques montantes que par les crypto-monnaies, dont l'essor pose question.
Fort d'une réflexion rigoureuse, abordant les aspects économiques, historiques et géopolitiques, l'auteur explique en quoi la monnaie, outil de concentration des richesses par les oligopoles financiers, peut aussi être instrument de pouvoir et de souveraineté au service des peuples.
Passant en revue la situation de chaque continent, ce livre invite à débattre de la libération de l'emprise du dollar, de l'avenir de l'euro, des francs CFA et CFP, du peso cubain ou du yuan chinois, entre autres, mais également des moyens de reprendre en main notre devenir collectif par une maîtrise de la monnaie.
We remind our readers that publication of articles on our site does not mean that we agree with what is written. Our policy is to publish anything which we consider of interest, so as to assist our readers  in forming their opinions. Sometimes we even publish articles with which we totally disagree, since we believe it is important for our readers to be informed on as wide a spectrum of views as possible.