Around 45,000 police were deployed throughout France on Saturday in anticipation of a fifth night of violence sparked by police shooting a teenager. In an effort to quell the rioting that has swept the country, authorities in the capital, and large cities such as Marseille, Strasbourg, and Lyon, all tightened security measures.
France's Interior Minister Gerald Darmanin tweeted at night that the situation had been calmer than previous ones, thanks to the "resolute action taken by the security forces". Around 427 people had been arrested overnight, Darmanin added.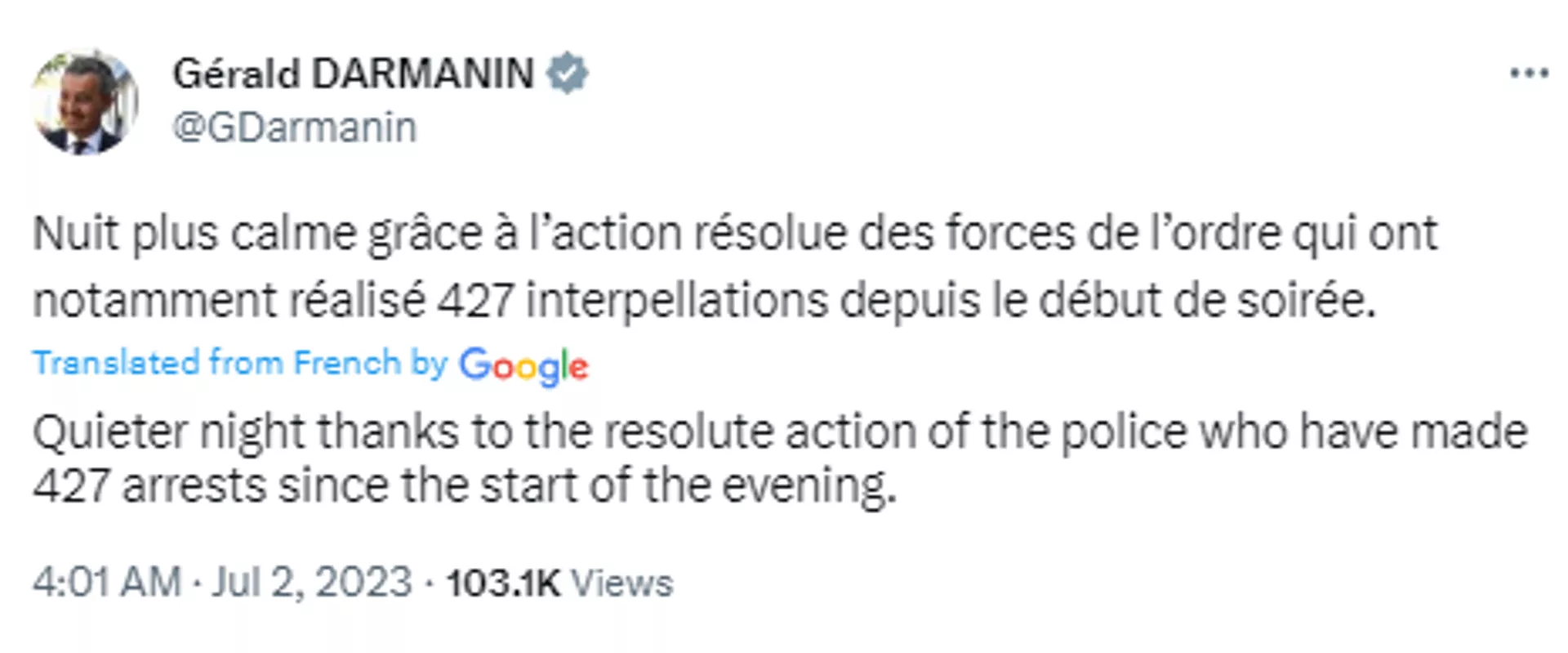 Earlier in the day, Darmanin had announced that reinforcements of riot police were being deployed in Marseille, Lyon and Grenoble. A curfew was also set in place in the city of Colombes, near Paris. Police officers in the capital itself patrolled the Champs-Élysées, seizing suspicious objects, and 37 people were arrested for possession of weapons, according to the Prefecture de Police on Twitter.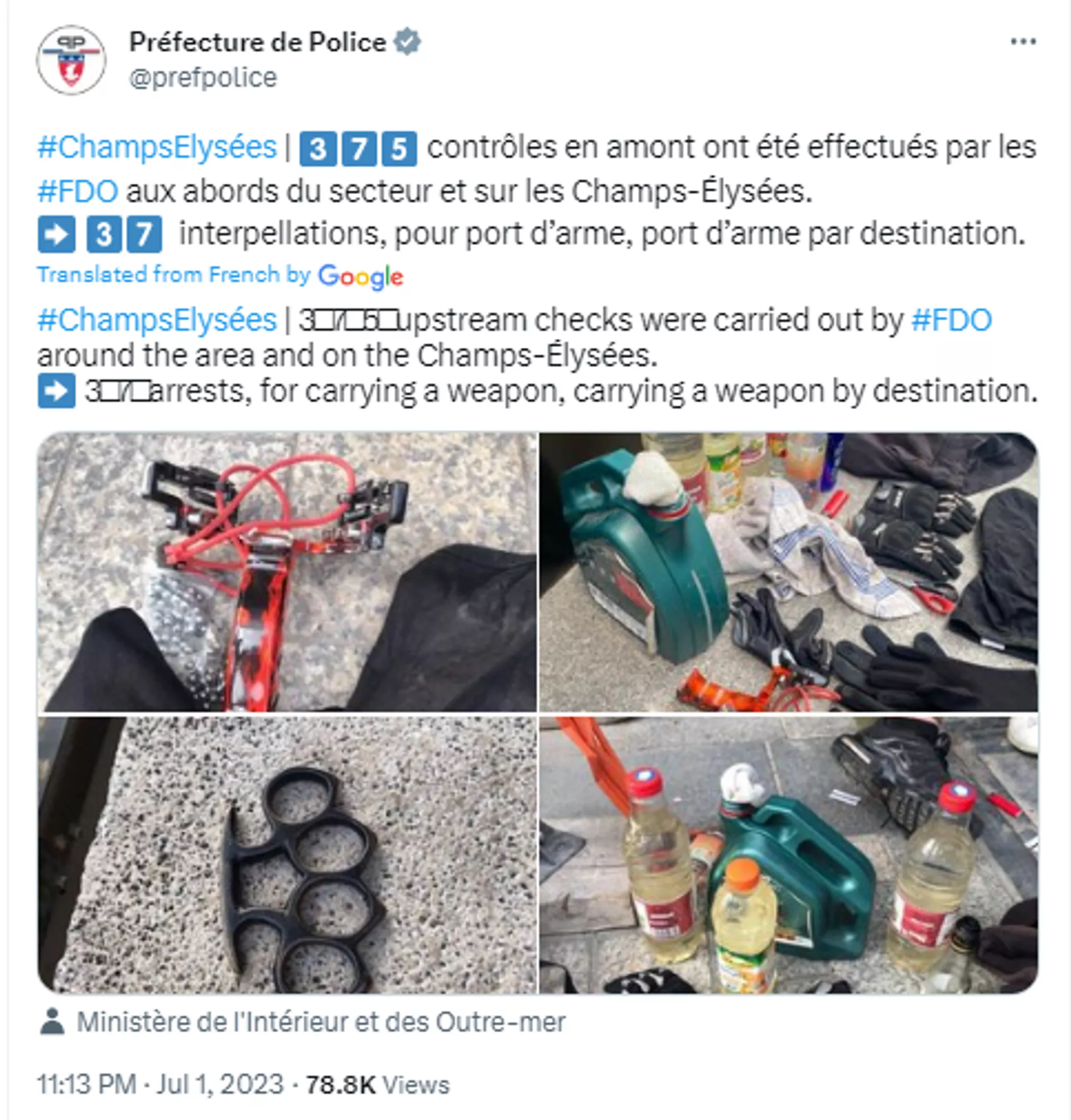 France's Interior Minister also issued a warning to parents on Saturday, vowing that law enforcement and the prosecutor's office would hold them responsible for any damage caused by their children."We have arrested arsonists who are 12, 13-years old. When you are 12 or 13-years old, there is an indisputable responsibility of the parents", he stressed.
French Justice Minister Eric Dupond-Moretti said that French prosecutors should ask internet operators for the IP addresses of young people fomenting riots on the Snapchat app.
Elisabeth Borne, the country's Prime Minister, also went on Twitter to praise the "exemplary courage" of the police "in the face of violence".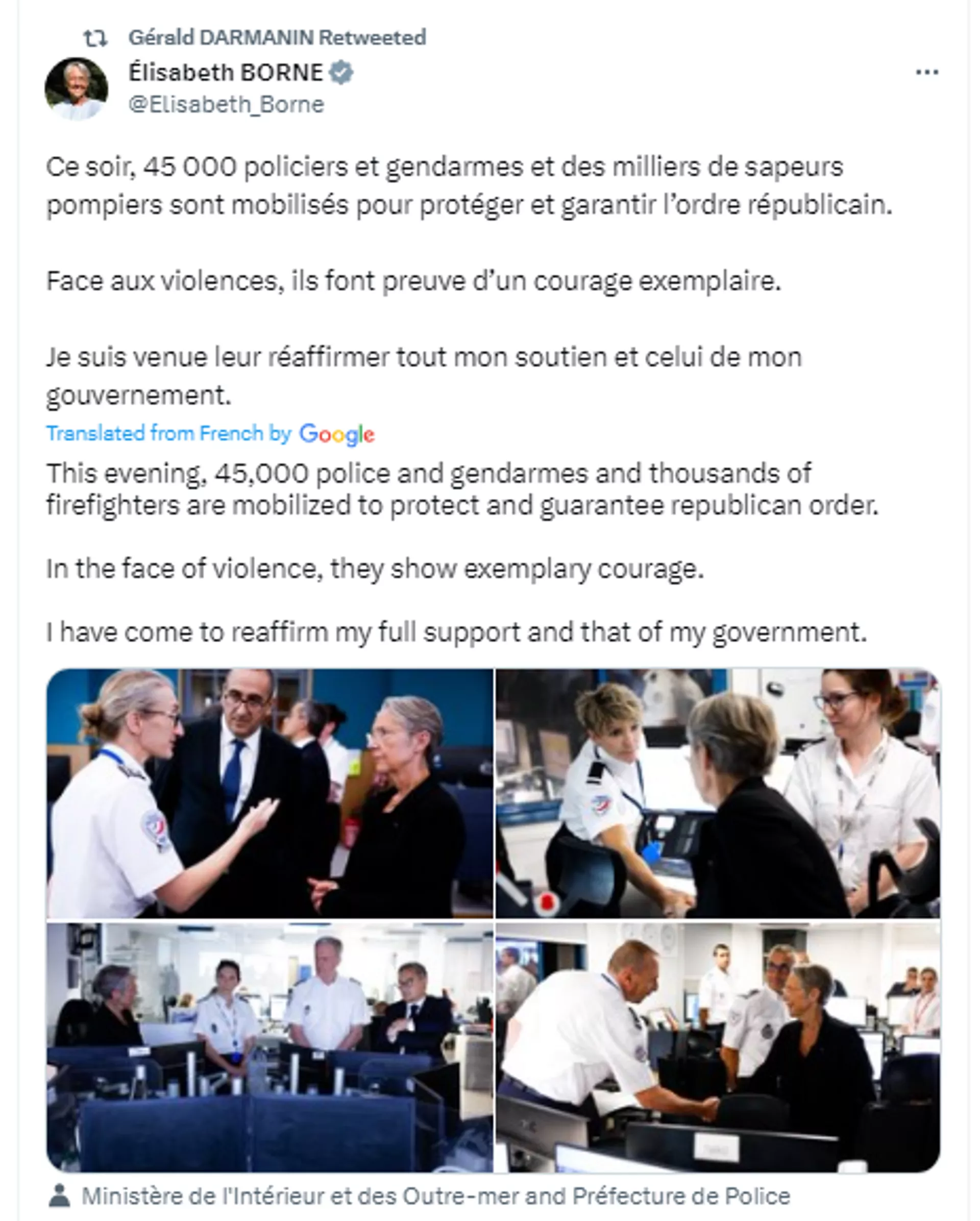 Earlier in the day, Nahel Merzouk, the teenager of Algerian descent who was shot and killed by a police officer during a traffic stop, was buried at a cemetery in Nanterre. Hundreds showed up at the suburb west of Paris to pay tribute.
Fifth Night of Riots in France
The total number of arrests which took place in various French cities on Saturday night reached 1,311, according to various reports. The French Ministry of the Interior said that 80 arrests were confirmed in Paris. Police in the capital repelled people gathered at Arc de Triomphe to prevent a rally being held there, a Sputnik correspondent reported. About 3,000 people gathered there late on Saturday night, after calls on social media to hold a protest there.
Around 55 arrests have been reported in the southern city of Marseille, which witnessed heavy clashes between police and rioters throughout Saturday evening. In the city's Bouches-du-Rhône prefecture, 29 arrests were reported. The city's public library was set ablaze.
There were looting attempts on Canebiere, Marseille's main shopping precinct.
⚡️Volkswagen dealership getting looted in Marseille, France pic.twitter.com/UjmPORlbZO

— War Monitor (@WarMonitors) July 1, 2023
People reportedly tried to break into the Canebiere fire station.
"All potentially violent groups in the city centre of Marseille have been systematically dispersed by the police and gendarmes, and if necessary, with the use of tear gas," the authorities stated.
In Lyon, at least 21 people had been arrested after being caught in possession of mortars. Others were seized for "carrying prohibited weapons, and violence against a person holding authority and theft", according to reports.
Lille, in northern France, witnessed a heavy presence of police special forces – Recherche, Assistance, Intervention, Dissuasion (Research, Assistance, Intervention, Deterrence – RAID) – out in the streets.
In Grigny, a suburb in the south of Paris, a building was set ablaze.
Christian Estrosi, mayor of Nice on the French riviera in the south, said the city center was looted by a "gang of young people", who were "quickly arrested".
Vincent Jeanbrun, Mayor of L'Haÿ-les-Roses, in the southern suburbs of Paris, went on Twitter to reveal that his home had been attacked, and his family was the victim of "an assassination attempt". Jeanbrun said that his wife and one of his children were injured while fleeing from the unknown assailants, who rammed his house with a car and then torched the vehicle.
Footage on the internet showed instances of looting by gangs of young people, and random acts of violence across France.
Violent unrest erupted in Nanterre, France, after the shooting of a 17-year-old driver by a police officer during a routine traffic check on 27 June. The teenager reportedly refused to comply with police instructions. The autopsy showed that Nahel died from a single shot by the officer. A criminal case of intentional homicide was opened against the police officer. Investigators concluded that the legal conditions for the usage of firearms had not been observed.
Amid the violence, French President Emmanuel Macron informed German President Frank-Walter Steinmeier that he would not be able to visit Berlin as scheduled next week because of the continuing unrest in France, the German Presidency said on Saturday. Macron's visit was scheduled to take place from 2 to 4 July. Previously, Macron came under harsh criticism for leaving France amid protests on Wednesday to attend the concert of British singer Sir Elton John in neighboring Belgium.
We remind our readers that publication of articles on our site does not mean that we agree with what is written. Our policy is to publish anything which we consider of interest, so as to assist our readers  in forming their opinions. Sometimes we even publish articles with which we totally disagree, since we believe it is important for our readers to be informed on as wide a spectrum of views as possible.