Le Massacre d'Odessa porte en lui les germes de la guerre en Ukraine
Le 2 mai 2014, deux mois après le coup de force de l'euromaïdan, plus de 40 opposants au nouveau gouvernement furent sauvagement assassinés lors d'une opération planifiée en hauts lieux. Il est crucial de comprendre les ferments de la guerre actuelle pour rendre possible un futur apaisement.
Odessa est une ville du sud prospère, ses habitants d'origines variées de cultures ukrainiennes, russes, juives, grecques, moldaves et autres, coexistent paisiblement. Son grand port draine une industrie diversifiée, et une forte activité informatique. Le 2 mai, la contestation démocratique contre le gouvernement maïdan se développe depuis deux mois. Sur le « champ Kulikovo », un lieu de débat permanent est installé, avec des tentes et une grande scène. On y discute âprement les mesures autoritaires de la « junte », antirusses, anti-communistes et exclusivement tournées vers l'Union européenne. Le président élu a été renversé suite à 94 morts par balles à Kiev dans des conditions plus que troubles, et l'ingérence des États-Unis est démontrée par une écoute téléphonique. L'abolition de la loi sur les langues régionales, qui conférait au russe un statut officiel dans les régions comme Odessa, est une attaque frontale qui marque les esprits et les cœurs.
Lire la suite dudroitdespeuplesadisposerdeuxmemes.wordpress.com
À Kiev en 2014, le philosophe Marc Sagnol a vu venir la guerre de 2022 en Ukraine. Il livre les clés essentielles du conflit
Marc Sagnol connait les ukrainiens, leur histoire, leurs langues et leurs cultures. Il était à Kiev pendant l'insurrection maïdan. Publié en mai 2014 dans la revue "Les temps modernes", son témoignage n'a pas pris une ride. À lire pour qui veut comprendre sans s'enliser dans une délétère propagande.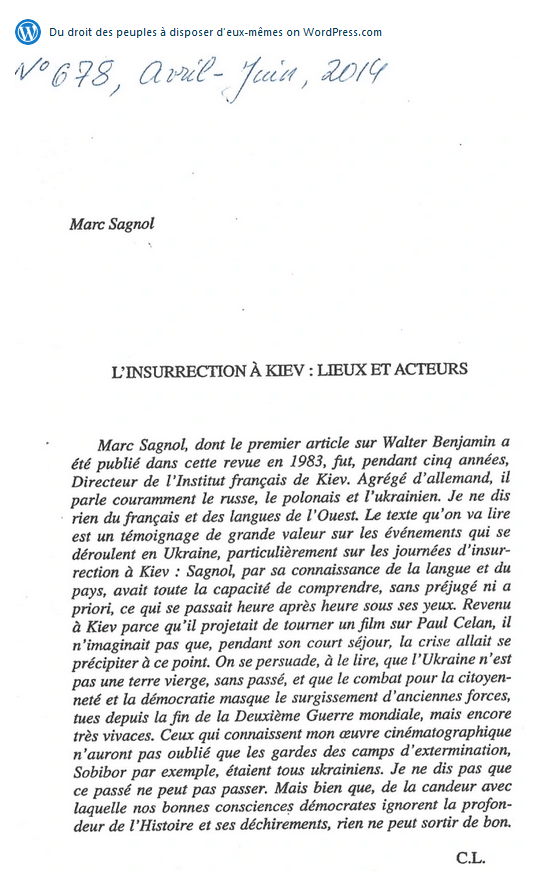 Lire la suite dudroitdespeuplesadisposerdeuxmemes.wordpress.com
We remind our readers that publication of articles on our site does not mean that we agree with what is written. Our policy is to publish anything which we consider of interest, so as to assist our readers  in forming their opinions. Sometimes we even publish articles with which we totally disagree, since we believe it is important for our readers to be informed on as wide a spectrum of views as possible.